Following the Edinburgh World Writers' Conference session on "Censorship Today", Ben Okri delivered the following statement on behalf of the participating writers: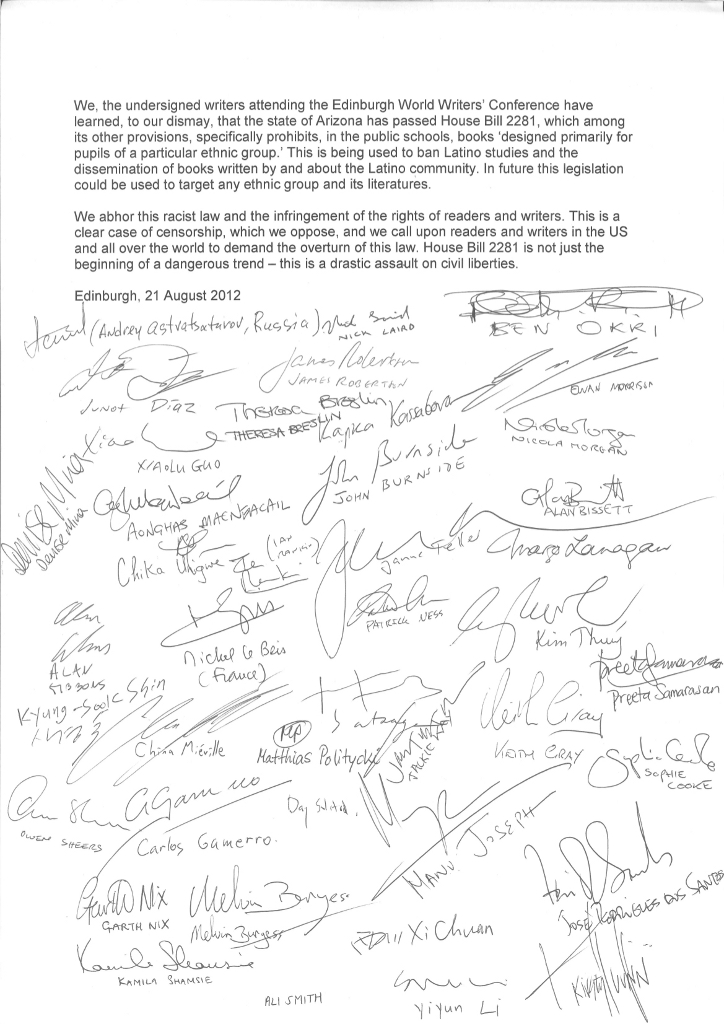 We, the undersigned writers attending the Edinburgh World Writers' Conference have learned, to our dismay, that the state of Arizona has passed House Bill 2281, which among its other provisions, specifically prohibits, in the public schools, books 'designed primarily for pupils of a particular ethnic group'. This is being used to ban Latino studies and the dissemination of books written by and about the Latino community. In future this legislation could be used to target any ethnic group and its literatures.

We abhor this racist law and the infringement of the rights of readers and writers. This is a clear case of censorship, which we oppose, and we call upon readers and writers in the US and all over the world to demand the overturn of this law. House Bill 2281 is not just the beginning of a dangerous trend – this is a drastic assault on civil liberties.

Edinburgh, 21 August 2012

Andrey Astvatsaturov
Nick Laird
Ben Okri
Junot Diaz
James Robertson
Ewan Morrison
Xiaolu Guo
Theresa Breslin
Kapka Kassabova
Nicola Morgan
John Burnside

Aonghas Macneacail
Denise Mina
Chika Unigwe
Ian Rankin
Janne Teller
Alan Bissett
Margo Lanagan
Alan Gibbons
Michel Le Bris
Kyung-Sook Shin
Patrick Ness

Kim Thúy
Preeta Samarasan
China Miéville
Bernado Atxaga
Matthias Politycki
Jackie Kay
Keith Gray
Sophie Cooke
Owen Sheers
Carlos Gamerro

Manu Joseph
Garth Nix
Melvin Burgess
Kamila Shamsie
Ali Smith
Yiyun Li
Xi Chuan
Kirsty Gunn
Dag Solstad
José Rodrigues dos Santos
Please join in the discussion below. You can sign in using your existing Twitter, Facebook, Google or Disqus accounts by clicking on the icons. Alternatively, submit a name and email address to set up an ad-hoc account for your comments..