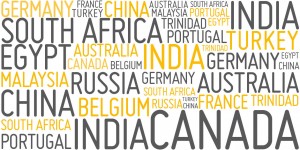 The Edinburgh World Writers' Conference is a seminal series of events aiming to capture a global snapshot of what matters most to writers and readers of literature around the world. Beginning in Edinburgh, Scotland, by its close in August 2013 the Conference will have convened around 40 Conference discussions and commissioned some 35 speeches from the most exciting and celebrated writers of our times, along with myriad offshoots and wellsprings, thousands of tweets, comments, aperçus, vignettes and inspirations.
We are looking for an artist, in the widest sense of the word, to respond to this landmark project with a piece of work which encapsulates the Conference's aims, its output and its resonance. The commission could be in any media: poetic, digital, visual, tactile – and you could be a writer, a photographer, an artist, a performer. It is assumed you will be a reader.
The aim is for the work to be displayed in tandem with the reprise Conference events at the Edinburgh International Book Festival this August. The total fee available for this commission will be £3,500, which must include all materials and requirements for display, and provide for practical application / shipping / delivery by early August in Edinburgh.
In common with the Conference aims, we will be looking for a response that looks to break new moulds, explore new landscapes, and delve anew into universal concerns. Apply to edwritersconf@hotmail.com by 26th April with no more than 500 words to describe your concept. Five entries will be invited to submit a more detailed proposal, including full budget and plans for display / performance to be pitched to a panel in London or Edinburgh in the first half of May.
The Edinburgh World Writers Conference is presented by the Edinburgh International Book Festival and the British Council. www.edinburghworldwritersconference.org