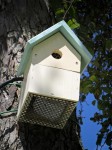 The Edinburgh World Writers' Conference 2012-13 is a remarkable project, unrivalled in its scope and depth. I feel honoured to create an artwork to celebrate the conference at the Edinburgh International Book Festival, where the conversation began.
My first thought was to capture the excitement I felt when I first came across the conference. Here were writers from around the world talking about what mattered to them, how it felt to be a writer today in South Africa, Russia, China, India… and on and on. The speeches, and the conversations that follow, are firecrackers – energetic, unpredictable, exciting. How could I recreate the joy of discovering them?
Most importantly, I wanted to work with the strengths of the material.The speeches are, of course, beautifully written – but they are also delivered with conviction. And when you listen to the recordings in succession, you begin to hear the chorus of voices that the conference is intended to be. As an audio producer, I have been spellbound by readings, drawn into another world just by the lilt and sway of a single voice. I found that again when listening to writers speaking at the conference. So I knew I wanted to use just the power of their voices to quickly engage and move audiences. I listened to the conference's recordings and carefully selected clips from twenty two authors. I then constructed five short sound installations, each of them introducing listeners to a central theme of the conference.
The next stage was to think about how audiences would experience those voices. The site of the Edinburgh International Book Festival is Charlotte Square, a green and tree-filled space in the city centre. I wanted to respond to this space in a playful, enjoyable way – and to offer audiences a journey, the sense of ideas connecting across space and time, just like the conference itself. The result is simple and playful. The installation uses motion activated speakers housed in bird boxes, mounted in five trees around Charlotte Square. This way, audiences discover the voices of writers for themselves and the ideas, the words, which are at the heart of the conference, take flight. They are airborne.
Listen to 'A National Literature' by Anna Lea:
For more about Anna, visit her website.  To attend the EWWC event in Edinburgh on August 17, book tickets here.