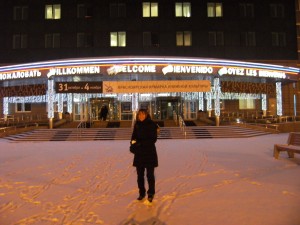 Helmeted, gloved, mitted and down-jacketed I set off for Siberia to a unique encounter with Russian culture.
It was one of the most fascinating experiences of my life. Meeting young people, authors, readers, librarians, teachers and everyone connected with the Krasnoyarsk Festival of Culture made for a stimulating (and exhausting!) few days. We received an overwhelming welcome with a packed programme of events to enjoy and take part in. If there was any regret it was that I would have liked to have had more time for conversation and to explore the area.
I was greatly impressed by the young people I met: the range and depth of their knowledge of the classics of their own country, their energetic reading, and a willingness to question and enter into discussions. Praise to the teachers and librarians and organisers who facilitated our meetings.
It was huge honour to be asked to address groups of librarians and I was struck by their keenness to share best practice. I got the impression that more of this type of session would be welcome. The spin off from this was that I have since liaised with two separate delegations of Russian librarians who subsequently visited Scotland on fact-finding missions. Now I have continuing contact with individuals – not just librarians, but also readers and audience members – through social networking.
It was tremendously encouraging that the Russian / UK writers series of Edinburgh World Writers' Conference talks were so well attended. In the case of my own Keynote I felt that the choice of writers matched the theme and gave an extra dimension to the discussion as we came from a variety of backgrounds and a mixture of nationalities, with more than one strong influence feeding into our personal lives. We all acknowledged how we are informed by landscape, culture, and events, historical and current. In addition to stimulating comment this gave rise to humour. An added point is how the themes interrelated with each other so the session on national literature embraced issues of censorship and the political.  It was enlightening to hear Russian authors speak of their work in both historical and modern context.
One of my lasting impressions is of the enthusiasm of the young Russians I met, and their eagerness to be exposed and have access to literature of all kinds. Speakers and members of the audience commented upon the crucial effect that books play in the formative years of your life.  As you journey through those adolescent years the fiction that you read is part of the process that makes you the adult you become. There seemed to me to be hunger for more: that young Russians would welcome stories that reflect their own situations – the narrative of their lives as Russians living in Russia today.
It's one of the great features of EWWC, to give worldwide recognition to the power of fiction – of reading words which have the ability to make you think and feel at the same time.
Theresa Breslin

Browse the Russian EWWC events here.