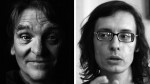 Krasnoyarsk Book Culture Fair, Russia

Thursday 1 November 13:30pm KRAT
Should Literature Be Political?
Keynotes: Melvin Burgess & Andrei Astvatsaturov
Burgess and Astvatsaturov discussed UK and Russian perspectives on the universal question 'Should Literature be Political'? along with participating authors Tibor Fischer, Theresa Breslin, Konstantin Milchin and Kirill Kobrin.
Alex Preston provided a summary of the discussion. The event was moderated by Irina Prokhorova.

---
Author Biography:
Andrei Astvatsaturov is a literary historian and writer. Associate Professor of the Department of History of Foreign Literature in St. Petersburg State University and director of the literature program at Smolny College of Liberal Arts and Sciences. Author of numerous publications on American and English literature.