Last year I was immensely privileged to attend five days of the Edinburgh World Writers' Conference in Edinburgh. What writers, what brains, what passions were brought to those five days! It was all very stimulating—perhaps slightly too much to digest in such a short time, on top of the normal adrenalin of a book festival and of being on the other side of the world, and in the beautiful city of Edinburgh for the first time, and I was glad that it was all recorded and put up online for later digestion and consideration.
Last Friday I managed to get along to two of the five sessions of a more condensed version of the Conference, presented all in one day in conjunction with the Melbourne Writers Festival. The sessions were held in the Deakin Edge, part of the Federation Square complex in the central business district and a great venue, bigger and airier than the Edinburgh marquee, with trams and Yarra Bank trees visible beyond the talking heads and bodies of the presenters and Auslan interpreters.
The first session I went to was Censorship Today, Censorship Tomorrow, where writer and lawyer Larissa Behrendt gave the keynote, and Ali Alizadeh then ran the discussion between Larissa and Scottish poet John Burnside, who had been a very vocal part of the proceedings in Edinburgh—and of whose poetry I've been a fan for several years. I took scads of notes for the purposes of this blog post. How to condense them into something meaningful?
Well, the difference from Edinburgh was immediately obvious with the acknowledgements of the original custodians of the land, and it was the many issues surrounding the silencing and marginalisation of Indigenous points of view that dominated the session. These are vital matters in Australia today, with many writers feeling a strong taboo around the use, and possible misuse, of Indigenous cultural material in their work.
Larissa talked about three powerful kinds of censorship: the first was the cultural erasure practiced by colonial and assimilationist Australia on Indigenous people in the past. Indigenous children still face stark disadvantages in education and career prospects, and it's difficult for Aboriginal and Torres Strait Islander (ATSI) communities to maintain their cultures when they are denied tools such as literacy and numeracy and taught not to aspire to progress to tertiary education. Larissa applauds the ongoing drive in ATSI communities, despite this powerfully antagonistic history, to continue telling Indigenous stories in written (fictional and factual), visual art, craft, dance and film form.
The second kind of censorship was all the forces operating to keep non-Indigenous Australia steadfastly uninterested in hearing Indigenous narratives. She wished that past practices of child removal and cultural genocide could be told to Australian schoolchildren, so that more Australians could see what Indigenous people face, and echoed Tony Birch in urging white Australia to take ownership of its colonial past. In the face of strong assertions of the Indigenous experience such as the Bringing Them Home report and the movie Rabbit-Proof Fence, she said, which show us a history that's difficult to face, we should not fall silent, or fall back on the contested statistics thrown up by the 'history wars', or distract ourselves with semantic arguments about the competing non-Indigenous narratives about our past.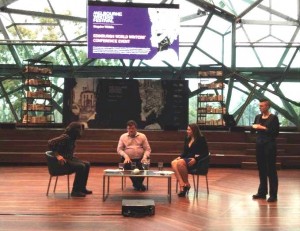 In pursuit of a more healthy debate about Indigenous matters, and one that includes Indigenous points of view directly, Larissa urged non-Indigenous Australians, particularly writers, to get over the third kind of censorship, our self-censorship when it comes to including Indigenous characters and matters in their fiction. 'Writers with talent can write from any perspective,' she said.
The pursuit of absolute authenticity is important if we choose an Indigenous perspective, and in the light of our general ignorance about Indigenous history and culture it's very difficult to get it right. But—and this to me was the most powerful message of the address—blowing it isn't the worst thing we can do. Larissa talked about the effect on her of reading Thomas Keneally's The Chant of Jimmy Blacksmith. Though it depicted well a black man torn apart by exposure to the possibilities available to whites and the limitations imposed on him by his black skin, she felt it presented very one-dimensional Indigenous women—yet she was glad he had written and published it, because it gave her more to think about in terms of her gender and her race, more provocation to articulate her own views. It is better to have these gifts of brave, thoughtful, imaginative and uncensored writers out there, she said, than to present Australians, white and black, with a frightened silence.
'Talented writers translate, interpret and hold a mirror up, and that is why they are so very, very threatening,' she finished, and her clear implication was that we should get out there and be as threatening as we could.
During the discussion, which elaborated and extended this message (with John Burnside drawing parallels with the Norwegian Sami people and with his own working-class upbringing in Scotland) and explored ways in which non-Indigenous Australians might be engaged in listening Aboriginal stories, Larissa further suggested that writers shouldn't sit down with a political agenda. The best writing would come from our trying to tell the best story we could. 'Write for the story and passion; don't try to…write propaganda,' she said, just try to arrive at the particular truth the story is leading you to.
In response to Paddy O'Reilly's question about offensiveness (Is part of a writer's role to not be afraid to offend people?), Larissa talked a lot about writers coming from 'a position of good'. A greater debate can happen, she said, when you try to work out a situation from a position of good. She decried the 'crippling of [non-Indigenous] people of goodwill', the 'concerning silencing' of them/us. We shouldn't deal ourselves out of debates about Aboriginal people; because we are the dominant culture, we have the greater responsibility to keep the conversation going, so self-censorship becomes almost an abrogation of responsibility.
Her goal isn't to keep Australia as an 'us and them' society. All Australian people, she says, should see Aboriginal culture and history as our own culture and history. Honest questions shouldn't be shut down because people find them offensive. The debate has become bland because a lot of good people have dealt themselves out of it for fear of offending.
This was an exhilarating session—particularly for a writer whose latest novel had mired itself in just this complex of issues. Both the keynote and the discussion went right to the heart of one of the most significant issues of censorship in this country today.
The other session I went to was the one I was a participant in, along with the brilliant Scottish writer Kirsty Gunn, with Francesca Rendle-Short doing a top job of steering us through the shoals that awaited us in the discussion of Style vs. Content. Kirsty's keynote was a strong assertion of the primacy of form, form 'which gives birth to style and content', while I hummed and hawed about form and style being more or less the same thing, but operating on different scales in a work. It's always fascinating to see how other writers think about what they're doing, and how much you can't actually glean from a reading of their work. It was stunning to me, for example, to hear Kirsty talk about the impossibility of dealing with character, of truly inhabiting another human's consciousness, after having read, in the previous week or so, her novel The Big Music, whose characters live and breathe so believably on the page—or within the stack of files of which the narrative is built—that it becomes almost impossible to believe in the story as a fiction.
The audience questions kicked us along into other territory—the influence of editors, the making of sentences, what constituted tone and voice—but it all stayed within the realm of what was useful to a working writer in thinking about these different components of the writing. I still hold to my sense that they are mostly useful for diagnostic purposes when the writing falls over and I need to identify which part isn't functioning, that when I'm in full flow, thinking about style and content, let alone style versus content can be not only pointless but inhibiting. But it was all fascinating to explore, especially in tandem with such an intelligence as Kirsty's, and under such gentle but shrewd guidance as Francesca provided.
I had hoped to hear great things about the panel on A Post-National Literature, which I thought was a particularly crucial topic in an Australian context, but I heard from a friend who was able to attend it that not a lot was ventured in the way of general pronouncements, which was disappointing.
However, overall, the Australian EWWC did a pretty good job of giving some by now fairly well-worn discussions fresh flavour and juice, and rounded off the conference neatly.
Copyright: Margo Lanagan, August 2013
Were you at EWWC Melbourne? Have your say below!